Register for Worldskills Ireland 2023
WORLDSKILLS IRELAND 2023 RUNNING CONCURRENTLY WITH HIGHER OPTIONS AT THE RDS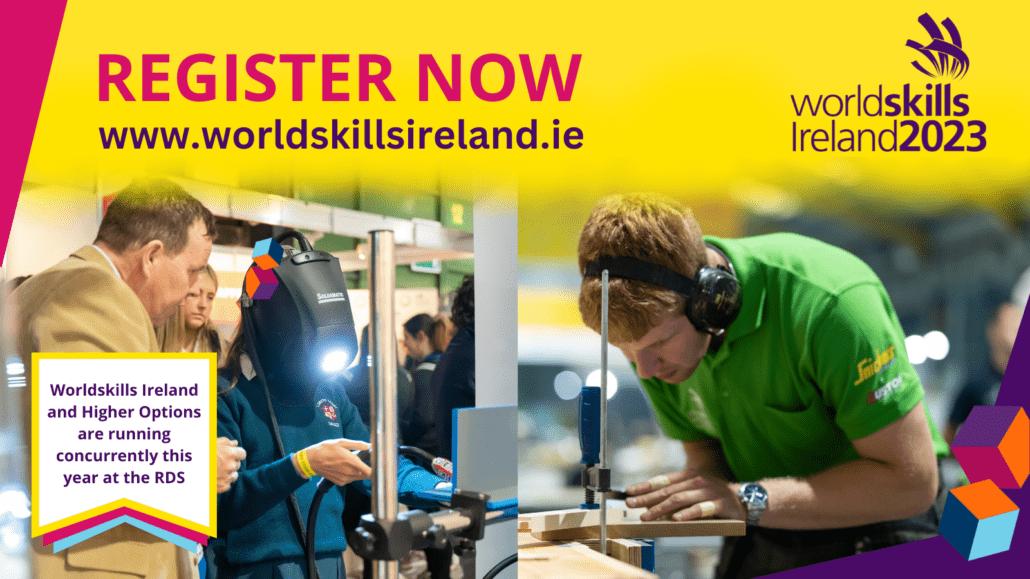 Worldskills Ireland 2023 will inspire the next generation of skilled young people to follow their passions, interests and talents for the securement of their own future, and of Ireland's. This is a unique opportunity for Teachers, Guidance Counsellors, parents and students to learn and experience all the different skill-based career options available in Ireland.
Over three action-packed days, Worldskills Ireland will facilitate an atmosphere of experimentation and discovery through live competitions, interactive try a skill areas, VR demonstrations and inspirational talks. An opportunity to talk to the various educators around Ireland and the companies recruiting apprentices in our Educator and Career Zone.
Note: Group and Individual Registration is open for Friday 22nd September, Afternoon Sloy only. All other timeslots are fully booked.
REGISTER FOR WORLDSKILLS IRELAND 2023
RDS | SEPTEMBER 20 - 22 2023 | ONE VISIT - TWO SHOWS
Worldskills Ireland 2023 and The Irish Times Higher Options are running concurrently at the RDS this September 20 -22. Registration for both shows must be done separately. Links to register for both events can be made below.